Become a Member of WWF
Symbolically Adopt an Animal
Make a symbolic animal adoption to help protect species and their habitats.
Give at Work
Does doubling, tripling or even quadrupling the impact of your donation to WWF — at no cost to you — sound appealing? WWF's Matching Gifts Program is a great way to do just that! If your employer participates in a matching gift program, your company will match the contributions that you donate to a charitable organization. Some companies even match gifts made by retirees and/or spouses. Find out if your company has a matching gift policy.

One of the simplest and most efficient ways to support WWF is by donating at work through EarthShare, a network of more than 400 local, state, national and international environmental and conservation organizations. EarthShare gives America's employers and employees an easy and effective way to care for the environment through workplace giving campaigns. More and more companies are giving their employees the opportunity to support WWF through EarthShare, and many will even match your gift.

Each fall, EarthShare participates in the largest workplace giving campaign in the world: The Combined Federal Campaign (CFC), which is tailored to meet the needs of federal employees, including U.S. postal workers and the U.S. military at home and overseas. To give to WWF through the CFC, simply enter CFC campaign #12072 on your pledge card during your fund drive and return it to your campaign coordinator.
Honor and Remember
Honor someone with a gift to WWF in their name.

Your friends and family receive all the benefits of membership.

Remember your loved one with a gift to protect wildlife.
Leave a Legacy
Bank of America
Show your love of the tiger with the WWF BankAmericard Cash Rewards™ Visa® credit card. Cardholders earn a $100 cash rewards bonus after qualifying transactions. Bank of America will contribute $100 to WWF for each new qualifying credit card account.†

Support WWF even further with a World Wildlife Fund personal checking account, featuring checks1 and debit cards with the WWF logo printed on them. WWF will receive a $10 contribution from Bank of America for each new qualifying account.

† For information about rates, fees, other costs and benefits associated with the use of this credit card, click here and refer to the disclosures accompanying the online credit application. This credit card program is issued and administered by FIA Card Services, N.A.

1 Check order fees may apply. Bank of America, N.A. Member FDIC. ©2013 Bank of America Corporation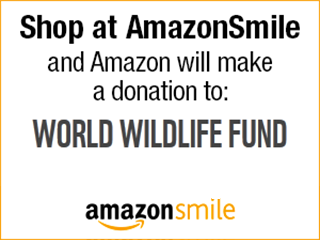 Shop at AmazonSmile to support our global conservation efforts every time you buy. It's the same Amazon.com you know—same products, same prices—and 0.5% of each purchase price is donated back to WWF.
Support WWF on AmazonSmile h
Coinstar
Donate your loose change to WWF by visiting a Coinstar machine and selecting the WWF donation option (code #8888)
HP
Through HP's Consumer BuyBack and Planet Partners Recycling Program, you can turn your old electronics into a donation for WWF. HP will recycle any old electronic product, including desktop computers, cell phones, digital cameras and e-readers. If there is any residual value left to your old product, then you can turn it into a charitable donation for WWF. To learn more, visit worldwildlife.org/hptradeups