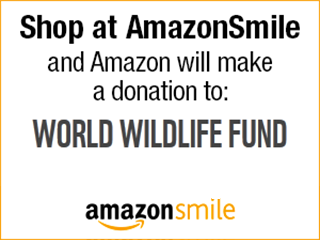 Shop at AmazonSmile to support our global conservation efforts every time you buy. It's the same Amazon.com you know—same products, same prices—and 0.5% of each purchase price is donated back to WWF.
Support WWF on AmazonSmile h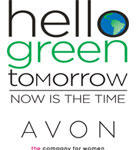 Avon
Avon Products, Inc. is proud to continue supporting WWF's reforestation efforts in Indonesia. Home to orangutans, tigers and countless other species—as well as millions of people—these are some of the most precious forests in the world. In the US, 100% of the net proceeds ($2.98 for every $6 bottle sold) from the sale of the Avon Hello Green Tomorrow reusable aluminum water bottle, and other products in 50 countries globally, will go to WWF and other conservation organizations for the restoration of critically endangered forests. Through this partnership, Avon has committed a minimum of $250,000 to WWF through December 31, 2012 in addition to the over $800,000 already donated from fundraising in 2011.

Introducing the World Wildlife Fund Visa Signature® credit card with Cash Rewards from Bank of America. Bank of America will contribute $100 to WWF for each new qualifying World Wildlife Fund Visa® credit card account.

Support WWF even further with a World Wildlife Fund personal checking account, featuring checks and debit cards with the WWF logo printed on them. WWF will receive a $10 contribution from Bank of America for each new qualifying account.
† For information about rates, fees, other costs and benefits associated with the use of this credit card, click here and refer to the disclosures accompanying the online credit application. This credit card program is issued and administered by FIA Card Services, N.A.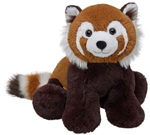 The Red Panda is the fourteenth and latest addition to Build-a-Bear's WWF Collectifriend™ series. The diet of the Red Pandas is largely vegetarian. They like to eat young leaves and shoots of bamboo but because of habitat loss and poaching, the population of Red Pandas is listed as Vulnerable with an estimated population of less than 10,000. Starting August 31st, WWF will receive $1 for each Red Panda purchased, with a guaranteed annual contribution of $25,000. The plush features a special hangtag with WWF's logo and information on the plight of the species. Since 1999, Build-A-Bear Workshop has donated almost $2 million to WWF to help us protect endangered animals and their habitats. buildabear.com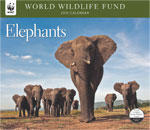 For 2014, Calendar Club is offering 15 WWF wildlife themed wall calendars, including elephants, sea turtles, polar bears and giant pandas. In the U.S. and Canada, WWF receives $.50 for each 2014 calendar purchased, with a guaranteed contribution of $50,000.

eBay Giving Works is the program on eBay where buyers and sellers can raise funds for the causes that are important to them. Sellers commit to donate a percentage of their listing's final sale price to the nonprofit of their choice and buyers make a difference with every purchase. Since 2003, the program has raised over $218 million for U.S. nonprofits. Visit WWF's page on eBay Giving Works to get involved.

Johnson & Johnson's Donate A Photo gives $1 to WWF for each photo that is shared. That $1 helps fund a well for a school in Africa—providing clean water for children and helping them avoid sanitation-related diseases and infection. Photos can be donated to WWF until January 31, 2014 or until the program reaches its goal of $15,000, whichever comes first. WWF will receive a minimum of $10,000.

New Headings is offering gear and apparel that feature the WWF logo. Their brands include Patagonia, Tilley Endurables, Eagle Creek, Nalgene and more. New Headings is proud to donate 20% from the sale of each item to WWF in support of our global conservation efforts.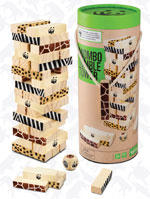 Terra-Toys' line of FSC-certified games and puzzles are teaching kids about endangered species and the work WWF is doing to help conserve their environments. 5% from the sale of each game and puzzle will be donated to WWF with a minimum financial guarantee of $12,000 by December 31, 2013. For more information about Terra-Toys, visit www.terra-toys.com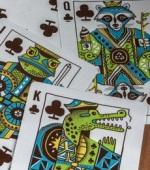 theory11's limited edition line of Animal Kingdom playing cards are supporting WWF's global conservation work. $1.00 from the sale of deck sold through September 30, 2014 will be donated to WWF. theory11.com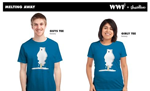 For the global online community of budding designers called Threadless, smart fashion can mean more than sporting a designer shirt; it can inspire a dialogue around key issues and give back to great causes.
The company's new WWF-inspired shirt, Melting Away, works to raise awareness of the impact of climate change by showcasing one of the most iconic Arctic species WWF and our supporters work so hard to protect.
Printed on 100% certified organic cotton with sustainable inks, Melting Away is now on sale via the Threadless online store.
Threadless will donate 25% of the purchase price of each shirt sold through November 28, 2013, to WWF's global conservation work.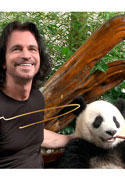 Legendary performer Yanni is partnering with WWF to raise awareness for the protection of giant pandas. WWF and Yanni present a $50 Limited Edition "Santorini" Panda Adoption which will be featured during Yanni's 2012 U.S. concert tour. Yanni has guaranteed $50,000 in donations (or 1,000 adoptions) to support WWF's panda conservation efforts.

The WWF online bookstore features a selection of books written by WWF staff, books funded by WWF, and books recommended by our experts on various topics related to our conservation work. WWF receives between 4 and 8.5 percent of any purchase on Amazon.com originating from this Web site.