Conserving Kamchatka Salmon through Marine Stewardship Council Certification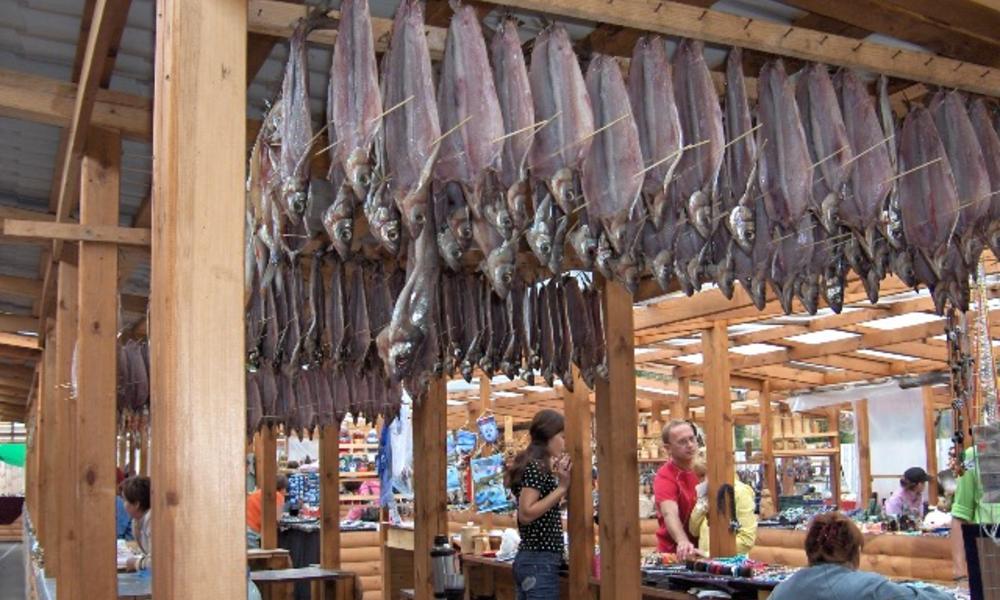 Date: September 04, 2012
In This Story:
In the pristine Kamchatka Peninsula on the eastern coast of Russia, salmon is the keystone species of coastal ecosystems and human economies. The salmon that thrive here feed local indigenous people as well as domestic and international markets—where it is sought by consumers for its health benefits and pure, wild origins.
WWF and the Wild Salmon Center have been working in southwest Kamchatka for years to ensure this fishery is a sustainable one. On September 4, 2012 that work was rewarded when the Ozernaya sockeye salmon fishery was certified sustainable by the Marine Stewardship Council (MSC).
The Ozernaya sockeye fishery is the first Kamchatka fishery to receive the globally recognized eco label and only the third salmon fishery in all of Russia. The Ozernaya is world-renowned as its sockeye spawn in Kuril Lake, which is located in a strictly protected nature reserve and considered one of the healthiest protected areas in Russia.
"The Ozernaya sockeye fishery is one of the crown jewels of global wild salmon fisheries. While work continues on improving the management of the fishery, it's critical that efforts to protect and sustain this unique ecosystem progress at the same time," says Wild Salmon Center's Brian Caouette.
WWF and Sustainability
WWF and its partners advised the local fishing company in its pursuit of MSC certification, helping develop a fishery management plan for the river's sockeye population. We also provided financial and technical support for protected areas and antipoaching brigades that contributed to the sustainable harvest from the Ozernaya river. WWF helped establish a citizen's watershed council to empower the local community to engage in natural resource decision making.
"The MSC certification process has been transformational for everyone involved in the fishery," says WWF's Denis Semenov. "Through WWF's Fishery Improvement Project, we worked with the fishermen to count and record bycatch, we worked with the regional government to assess the abundance of the salmon population, and we worked with the fishing company to prevent illegally harvested fish from entering the MSC product line. We have moved from a 'harvest fish now' to a 'harvest fish forever' mentality in just a very short period of time."
WWF's efforts in the Kamchatka Peninsula are designed to ensure that salmon fisheries are sustainable and that consumers and natural predators can continue to enjoy these fish forever. With 20 percent of the Russian Pacific salmon fishery either MSC-certified or in the MSC assessment process, this certification points to a growing wave of Russian salmon fisheries engaging in the MSC process.
The work shows how coordinated, landscape level conservation can benefit both people and nature. By protecting habitat, ensuring sustainable fisheries, and engaging local communities, the conservation of the Kamchatka fishery provides hope that we can meet our planet's growing need for food, while ensuring that nature can still thrive.
"The Ozernaya River in southwest Kamchatka is one of the most important wild salmon rivers in the world. Outside of Bristol Bay, Alaska, there is no more important region for the biodiversity and natural production of sockeye salmon, and this certification shows to the world that Russia is committed to the long-term sustainability of salmon."

Heather Brandon WWF Senior Fisheries Officer