Good News for Mountain Gorillas
New census shows increase in population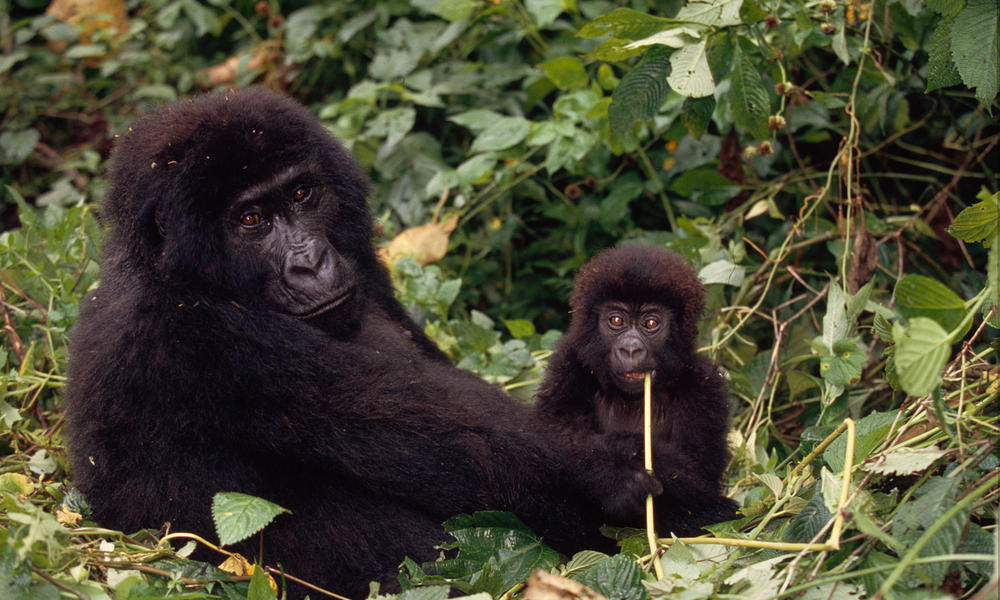 Date: November 13, 2012
In This Story:
A population increase for mountain gorillas is proof that the intense and innovative efforts of the conservation community are bringing positive change. A recent census by the Uganda Wildlife Authority identified 400 mountain gorillas in Bwindi National Park bringing the overall population estimate to 880, an increase from the 786 estimated in 2010.
This exciting news brings hope for the future of mountain gorillas as these critically endangered animals live only in two places on Earth—Bwindi and the Virunga Massif area, which spans across parts of Democratic Republic of the Congo, Uganda and Rwanda. According to the census, both habitat locations demonstrated positive trends in population growth over the last decade.
"Although they face many threats—habitat loss, disease, and snare entanglement, among others—this subspecies of the eastern gorilla can have a future on this planet," says Matt Lewis, WWF's African species expert. "And by protecting mountain gorillas, we ensure the survival of vital gorilla habitat and the other species that live there too."
A Future for the Mountain Gorilla
While the future is looking brighter, the prospect of oil exploration in Democratic Republic of the Congo's Virunga National Park by petroleum companies is cause for concern. While oil drilling would not occur directly in gorilla habitat, industrial activity would compromise the integrity of Virunga National Park, Africa's first national park and a UNESCO World Heritage Site. An influx of workers and heavy equipment could greatly threaten the park's prized biodiversity, which also includes elephants, hippos and the rare okapi antelope.
WWF has collaborated with the local people of DRC to raise environmental awareness and improve the management of natural resources outside the park in order to ensure that this existing mountain gorilla population trend continues to grow.
"Although they face many threats—habitat loss, disease, and snare entanglement, among others—this subspecies of the eastern gorilla can have a future on this planet."

Matthew Lewis
WWF African species expert