African Primate Safaris
8 to 13 days

Multiple departures, January, June, August, September & October
Trek through untamed African forests in search of mountain gorillas and other primates.
Expert photographer-naturalists help create unparalleled photography experiences.

Four separate gorilla tracking expeditions—two days each in Uganda and Rwanda— maximize photo opportunities with the endangered mountain gorillas.

Chimpanzees and other primates live in the trees of Kibale Forest National Park.
Available Tours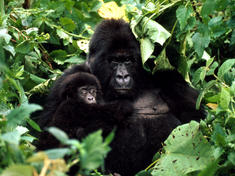 The Great Uganda Gorilla Safari
Trek through Uganda's forests to find the elusive mountain gorilla. Itinerary highlights include Kibale Forest National Park, Queen Elizabeth National Park and Bwindi Impenetrable National Park.
10-day tours from $8,495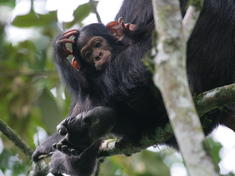 Ultimate Gorilla Photo Safari
An expert photographer-naturalist leads you to close encounters with primates. Itinerary highlights include Kibale Forest National Park, Queen Elizabeth National Park, Bwindi Impenetrable National Park and Volcanoes National Park.
13-day tours from $10,495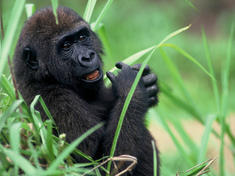 Undiscovered Congo: Gorillas & Wildlife of the Rainforest
There are few places left on the planet that offer an authentic encounter with unspoiled wilderness. The Congo Basin is one of them. Itinerary highlights include Odzala-Kokoua National Park and the Ndzehi Forest.
8-day tours from $10,995
Available Extensions
Ngamba Island Chimpanzee Sanctuary 1 day from $450
Rwanda Mountain Gorilla Extension 4 days from $1,850

Articles
Q-and-A: Mountain Gorilla Trekking
Webinar Alert: Gorillas in the Wild
Ten Things to Take on Your African Safari
Eco-successes in the African Bush
Top 10 Ways to Capture Better Wildlife Images

Discovering Our Planet Together
Call (888) 993 – 8687
to book your spot on this tour.
Questions? Email us at
travel@wwfus.org
.
WWF in Central Africa
Because poaching is a problem across central Africa, WWF works with TRAFFIC, the world's largest wildlife trade monitoring network, and the World Conservation Union to monitor the illegal trade of gorillas and other great apes. Read more here.
More Upcoming Tours