Baja: Among the Great Whales
6 days

January 26-February 2, 2013
Hike at Espiritu Santo, which offers deeply indented shorelines and dramatically eroded cliff faces.

"Among the Great Whales was not a trip – it was an experience. We would do it again in a heartbeat!" - Nancy M., Oxford, Ohio

Brown pelicans, gulls, wandering tattlers, great blue herons and boobies are all part of the Mexican landscape.
A mystical frontier of splendid coastlines and turquoise waters lies between Mexico's mainland and the Baja California. The Gulf of California's rocky shores and hundreds of miles of gently sloping beaches are home to coves, bays, lagoons and estuaries that sustain an extraordinary richness of marine life. In fact, this region is often dubbed the "Mexican Galapagos" because of so much diversity.
National Geographic Sea Bird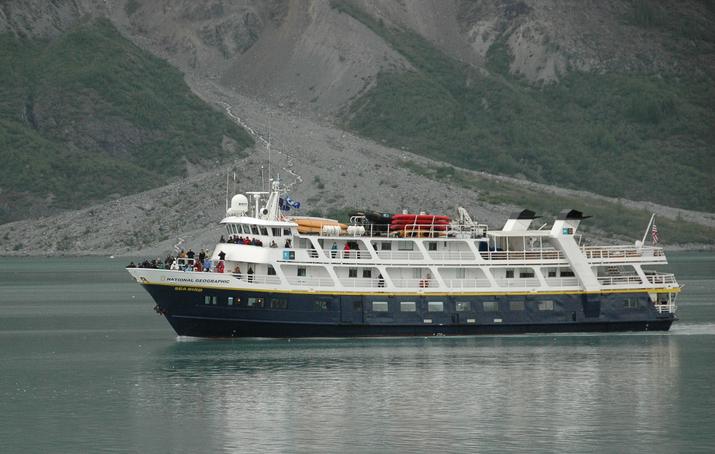 Itinerary
Saturday, January 26, 2013: Los Angeles / La Paz, Mexico / San Carlos
Upon arrival in La Paz, transfer to San Carlos and embark the ship. (D)
Sunday, January 27 through Tuesday, January 29: Bahia Magdalena
Navigate through an immense system of protected coves and channels, surrounded by a fringe of mangrove at one edge of a vast windswept plain. Each winter, during their long migration, gray whales travel south from their Arctic feeding grounds to breed and raise their calves in these sheltered waters. Observe migrating whales from the ship and at water level from Zodiacs. Discover dense mangroves by kayak and watch for magnificent frigate birds, pelicans, cormorants, terns, great blue herons, ibis and willets. (B,L,D daily)
Wednesday, January 30: Los Cabos / Gorda Banks
This morning cruise past Friars Rocks at Land's End. For those who wish, we will arrange a visit to the historic town center of San Jose del Cabo. The afternoon is spent at the Gorda Banks seamount, a gathering place for whales, especially humpbacks, as well as dolphins and other sea life. (B,L,D)
Thursday, January 31: Islas Los Islotes / Espiritu Santo
At Los Islotes, don flippers and a mask and snorkel with curious sea lions. Take the afternoon to swim, kayak or hike at Espiritu Santo, with its deeply indented shorelines and dramatically eroded cliff faces. Brown pelicans, gulls, wandering tattlers, great blue herons and boobies are all part of the landscape. Finish the day with a beach barbecue complete with campfire and a star-filled sky. (B,L,D)
Friday, February 1: Exploring the Sea of Cortez
With the luxury of a flexible plan, search for whales among the islands of the southern Sea of Cortez, an area that has proven to be one of the best for finding whales, and often common and bottlenose dolphins. Explore the many uninhabited islands such as Isla San Jose or Isla Santa Catalina to walk among a forest of huge cacti and observe diverse birdlife. Swim or snorkel with king angelfish, butterfly fish, damselfish and parrotfish. (B,L,D)
Saturday, February 2: La Paz / Disembark
Disembark in La Paz after breakfast and drive to the airport for flights home. (B)
From $5,550 per person, based on double occupancy
Call (888) 993 – 8687
to book your spot on this tour.
Questions? Email us at
travel@wwfus.org
.
Baja: Among the Great Whales Brochure
More Upcoming Tours
xShare Your Thoughts!
Just 10 minutes of your time can help improve our site! Answer a few quick questions and you can help us make worldwildlife.org better.