Bhutan & Nepal
13 days

Multiple departures, February-April
A soulful journey with WWF to see the cultural and wildlife treasures of the Himalayas.
Bardia National Park in Nepal hosts 53 species of mammals, including the endangered one-horned rhinoceros.

During a visit to the Buddhist complex of Swayambhunath and other stops, you may have a chance to meet monks of all ages.

Trails, foot bridges and unpaved roads provide unparalleled views of villages, mountains and the countryside.
Join us for a new and intimate, insider's discovery of the world's most peaceful kingdom—Bhutan. Called the "Land of the Thunder Dragon," quality of life is measured in terms of Gross National Happiness, rather than purely material measures—though Bhutan's citizens live comfortable, serene lives. Until quite recently, this tiny country remained in splendid isolation, dedicated to preserving its deep Buddhist traditions and pristine landscapes. Geographically diverse Nepal contains the world's highest mountains, subtropical forests and captivating cultures.
Available Tour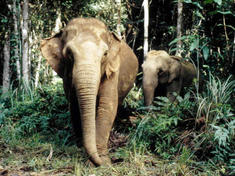 Natural Jewels of Bhutan & Nepal
Visit Taktsang Monastery, the famous "Tiger's Nest" perched half a mile up on an impossibly sheer mountain cliff. Explore Bardia National Park in Nepal, home to Bengal tigers, one-horned rhinos, Asian elephants and sloth bears. Visit Nepali forests, glorious mountain vistas and serene villages.
13-day tours from $7,895


Articles
Ten Interesting Facts about Bhutan
8 Places to Interact Authentically with Locals
Where We've Been, Where We're Going: Matt Erke
Help Stop Wildlife Crime: How to Buy Environmentally Friendly Souvenirs
12 Travel Tips that Are Good for Conservation
Five Tips to Prevent Jet Lag
Discovering Our Planet Together
Call (888) 993 – 8687
to book your spot on this tour.
Questions? Email us at
travel@wwfus.org
.
WWF in Nepal
WWF is using a $30 million grant from USAID to conserve Nepal natural treasures. Read more here
More Upcoming Tours