British Columbia and Alaska Voyage
12 days

April 30-May 11, 2013
A pair of resident Killer whales surface in the waters off the central coast of British Columbia, Canada
The mountainous coastline of Alaska and British Columbia is host to some of the most spectacular scenery in North America. Explore it from Sitka, Alaska, to the Gulf Islands of Canada on this 11-night voyage, which includes a free one-way flight from Seattle to Alaska and a $500 credit for camera gear and accessories.
Improve your photography skills from National Geographic photographer Rich Reid, who will be onboard for the journey.
Explore Alaska's Inside Passage and take in beautiful scenery and abundant wildlife.
Kayak in the still waters of the Gulf, and look for orca and humpback whales.
National Geographic Sea Lion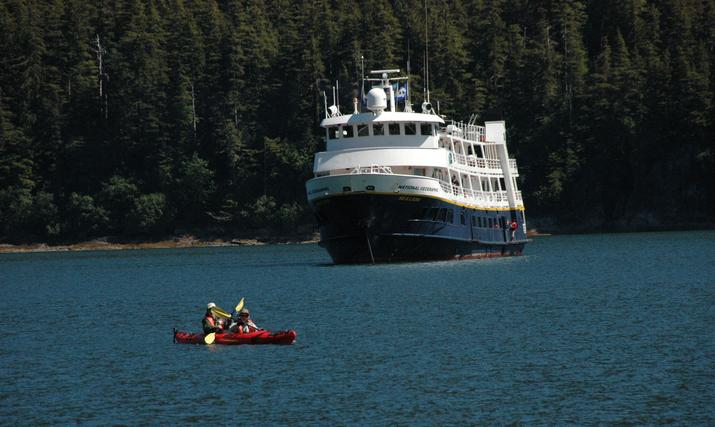 Itinerary
Tuesday, April 30, 2013: Seattle / Embark
Travel on your own to Seattle. Make your way to the port in the afternoon and embark the ship in time for an orientation and festive welcome dinner. (D)
Wednesday, May 1: Gulf Islands, British Columbia
Rise early to watch the sun rise over some of the most stunning seascapes in North America. Pacific white-sided dolphins might be keeping pace with the ship, and perhaps a curious orca will spy-hop to check you out. Look for migratory and resident birds bobbing atop placid waters during kayaking excursions. Later, cross into Canada, stopping in the small port city of Nanaimo. Tour a restored defense bastion and a museum, and look for river otters along the dock. (B,L,D)
Thursday, May 2: Alert Bay / Johnstone Strait
Steeped in natural beauty and tradition, Alert Bay is a small community on the south side of Cormorant Island. The community is home to the 'Namgis people, who are a First Nations band within the larger Kwakwaka'wakw people. Learn about their history and see a traditional performance at the U'Mista Cultural Center. "U'mista" means "the return of something important" and was so named to commemorate the return of potlatch regalia that was confiscated in the early 1920s after local authorities banned the cultural and family ceremony.
Later, sail through the Johnstone Strait, which is lined with isolated beaches, coves and old growth rain forests. With the setting sun casting golden light across the water, look for Dall's porpoises slicing across placid surfaces and snorting Steller sea lions hauled out on rocky outcrops. You may also see sea otters in this region, as populations are recovering after decades of near-decimation during the fur trade. (B,L,D)
Friday & Saturday, May 3 & 4: Exploring British Columbia's Inside Passage
Spend two days exploring the picturesque islands and bays of British Columbia's Inside Passage. A flexible itinerary will allow you to go in search of the best wildlife along this extraordinary stretch of Canadian coastline. With marsh marigolds beginning to dot the landscape, take guided nature walks through the temperate rain forest with naturalist guides and expert photographers. Kayak in calm waters inhabited by inquisitive harbor seals. Photograph massive haul outs of Steller sea lions. Go in search of fin whales, orcas, porpoises and dolphins via Zodiac landing crafts. You may even see elephant seals and Pacific Coastal wolves, which are known for "fishing" for seafood
Thanks to the region's locale along the so-called "Pacific Flyway," migratory and resident birds are common here. Birders may spot bald eagles, cranes, herons, loons and murrelets, among others. (B,L,D)

Sunday, May 5: Misty Fiords, Alaska
Entering U.S. waters again, arrive at Alaska's Misty Fiords National Monument, a protected wilderness areas nicknamed the "Yosemite of the North" because of a similar glacier-carved topography as the California national park. Grizzly and black bears, whales, mountain goats and deer live in abundance in the remote, mist-shrouded landscape. Kayak in the stillness of backwaters lined with hemlock, spruce and cedar trees, and go for guided nature walks. (B,L,D)

Monday, May 6: Frederick Sound / Chatham Strait
Join naturalists and photographers on deck to look for orcas, whales and other marine mammals. Go ashore for a walk along a quiet forest trail and visit the fishing village of Petersburg, known as "Alaska's Little Norway." Meander through the small town center in search of pretty photographic subjects, browse the shops or borrow a bicycle to explore the small island community on your own. (B,L,D)
Tuesday, May 7: Tracy Arm or Endicott Arm
Voyage into Tracy or Endicott Arm, both of which are spectacular fjords with waterfalls cascading from glacially carved walls. Learn from the onboard naturalists about the formation of glaciers and how climate change is rapidly affecting them. Examine icebergs up close during Zodiac rides. (B,L,D)
Wednesday, May 8: Juneau
Just 12 miles from downtown Juneau, Mendenhall Glacier is the best spot in Alaska to examine a glacier up close. It's an easy stroll from the visitors center to the terminal of the glacier, which calves icebergs into a lake. You'll also spend time at the Alaska State Museum in Juneau. (B,L,D)
Thursday, May 9: Glacier Bay National Park
Spend the entire day among the enormous glaciers and expansive wilderness of one of the most stunning parks in all of America. At Glacier Bay National Park, nature is in charge, dictating what you'll see and do today. Perhaps you'll watch a mountain goat and her kid scale an impossibly steep cliff. Or see a bear amble along the shore to dig for clams. Or photograph puffins skimming the mirrored surface of a protected inlet, their images reflecting perfectly in the still water. Scheduled to join us today is a native Tlingit interpreter, who will discuss the cultural and ecological importance of the region. (B,L,D)

Friday, May 10: Exploring Southeast Alaska
With the luxury of a flexible schedule, hike on remote islands through the old-growth forest or kayak the coast. (B,L,D)
Saturday, May 11: Sitka / Disembark / Home
Disembark in Sitka and spend time exploring the culture-rich city. Visit Saint Michael's Russian Orthodox Cathedral with its picturesque spire; walk through Sitka National Historical Park, where totem poles line trails; and see birds of prey up close at the Raptor Rehabilitation Center. The group then transfer to the airport for a flight to Seattle, where you will then connect on your flight home. (B)
From $8,430 per person, based on double occupancy; single rates from $12,540.
Call (888) 993 – 8687
to book your spot on this tour.
Questions? Email us at
travel@wwfus.org
.
More Upcoming Tours
xShare Your Thoughts!
Just 10 minutes of your time can help improve our site! Answer a few quick questions and you can help us make worldwildlife.org better.