Misool Snorkeling Adventure
13 days

October 8-21, 2012
On this trip, travelers will explore the reefs surrounding the archipelago's remote Misool Island.

For snorkelers as obsessed with marine life as we are, these remote waters – the so-called "Amazon of the Seas" – are a must for your snorkeling bucket list.

Travelers will visit the seldom-visited islands of the Raja Ampat Archipelago, which possesses the world's greatest concentration of marine life for a region of its size.
WWF has offered an extremely popular snorkeling tour in Raja Ampat for several years now. We're changing things up a bit, to offer you a new, companion experience: An exploration of the reefs surrounding the archipelago's remote Misool Island.
For snorkelers as obsessed with marine life as we are, these remote waters – the so-called "Amazon of the Seas" – are a must for your snorkeling bucket list.
Sea Safari 8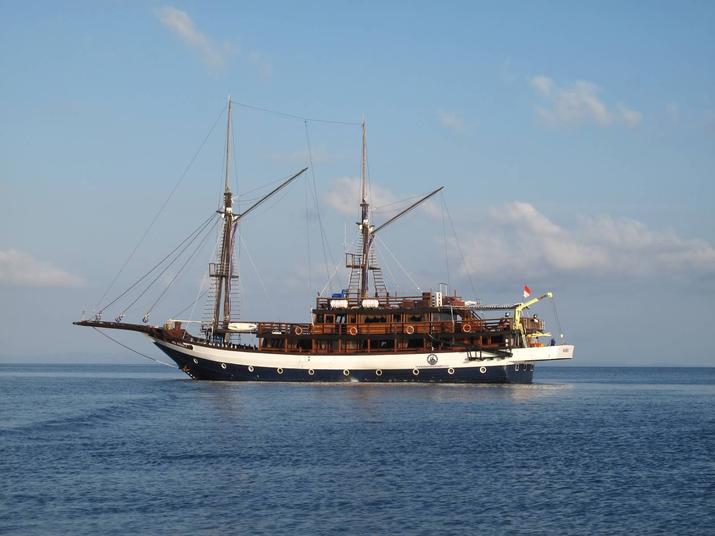 The Sea Safari 8 is a traditional wooden liveaboard handcrafted by Bugis master carpenters using locally grown timber.
View Ship Details & Deck Plan
Itinerary
Monday & Tuesday, Oct. 8 & 9, 2012: U.S. / Jakarta, Indonesia
Depart the United States on the recommended group flight, or independently. Transfer to the group hotel and gather later with your fellow travelers and guide for a welcome dinner and orientation. Sheraton Bandara Hotel (D Wednesday)
Wednesday, October 10: Jakarta / Sorong
An early morning flight takes you to Sorong, where the Sea Safari 8 will be awaiting the group's arrival. Board the ship, which will be your home for the next 10 nights, and settle in as the vessel heads to the waters surrounding the island of Misool. (B,L,D)
Thursday & Friday, October 11 & 12: Farondi Island
The first destination of the trip is Farondi Island, approximately 12 nautical miles east of Misool. Farondi is one of the top dive and snorkeling sites in the southern stretch of the Raja Ampat Archipelago, thanks to an abundance of deep walls, tunnels and caverns.
Spend two days exploring the reefs, including an area called "Three Rocks" on the northwest side of the passage between Wagmab and Farondi. Learn how gorgonian sea fans support commensal gobies, crabs, shrimp and other marine life. See healthy schools of fish feeding in the nutrient-rich warm waters that surround uninhabited karst islands rimmed in white sand beaches. (B,L,D daily)
Saturday, October 13: Daram Islands
A football field-sized sector of the ocean surrounding the far-flung Daram Islands is said to have far more species of coral than the entire Caribbean. The Daram Islands are part of a marine protected area where more than 1,200 fish species have also been recorded. It's no wonder, then, that some snorkeling spots have affectionate and descriptive names like "the Candy Store." Large schools of barracuda, fusiliers and butterflyfish flood the region with a palette of color in constant motion. Soft corals decorate the western side of a ridge, and the southeastern plateau has excellent snorkeling above a hard coral garden. The islands above water have as much natural beauty as the reefs themselves. Soaring cliffs, limestone overhangs, coves and lagoons look like they were intricately cut by jigsaws. (B,L,D)
Sunday & Monday, October 14 & 15: Boo / Fiabacet
Boo is a tiny collection of islands in another distant outreach of Raja Ampat. Because of its remoteness, Boo contains some of the most unique reefs in the archipelago (and a rich variety of trees and plant life, too). Spend two days exploring the islands, including one of the foremost sites in this area, "Boo Rocks." Massive southern-facing rocks contain "windows," or holes that peek above the ocean's surface and stretch more than 16 feet below the water. They make for stunning backdrops as schools of fish pass through the rounded openings. Also snorkel above the shallow hard coral gardens at "Nudi Rocks." Fiabacet Island, meanwhile, is known for soft corals and macro marine life, including pygmy seahorses, mandarin fish and pipefish. It's also a good region to look for humphead parrotfish and reef sharks. (B,L,D daily)
Tuesday, October 16: Pele
The reef at Pele may look like just a narrow sliver of coral, but its deeply sloping north side earned it the nickname of "Kaleidoscope." Other sites to explore today include Pulau Kecil and "Pele's Playground." (B,L,D)
Wednesday & Thursday, October 17 & 18: Nampele / Kofiau
More than 12 miles off the northwest tip of Misool, the Blue Water Mangroves are some of the world's most unusual places to snorkel. Brilliant red and pink Dedronepthya soft coral colonies have anchored themselves to the mangroves' umbrella-shaped roots, permitting them to flourish in a symbiotic relationship that's not fully understood. Mangroves are normally popular places to find small marine life. They often serve as nurseries for fish because of the gentle currents and protected waters. The addition of corals is a bonus that attracts even more species. Kofiau, meanwhile, is an oceanic island to the northeast and is one of the least-visited sites in all of Misool. It exemplifies just how biodiverse Raja Ampat is: Nearly 300 fish species have been recorded in a diminutive area, surprising researchers with such diversity. (B,L,D daily)
Friday, October 19: Batanta
Batanta is the smallest of the "Four Kings," or four large islands that comprise the Raja Ampat Archipelago. To start your day, join an optional, two-hour morning hike. As you trek through the rain forest, look for giant hornbills and cockatoos, observe the workings of ground insects and admire the variety of flora. With luck, you might spot (or hear) the red bird of paradise.
Enjoy a final day of snorkeling. Nudibranch, several species of ghost pipefish and two-foot-long mimic octopuses have all been documented at Batanta. Observe soft corals in sometimes swift currents, and snorkel at sites with the best coral cover in the area. (B,L,D)
Saturday, October 20: Sorong / Jakarta
Disembark in Sorong and return to Jakarta. Check in to your hotel, with the remainder of the day free. Later, gather for a farewell dinner. Sheraton Bandara Hotel (B,D)
Sunday, October 21: Jakarta / U.S.
After breakfast, transfer to the airport for your flight home, arriving in the United States the same day. (B)
From $8,690 per person, based on double occupancy. Single supplement: $750
Call (888) 993 – 8687
to book your spot on this tour.
Questions? Email us at
travel@wwfus.org
.
More Upcoming Tours
xShare Your Thoughts!
Just 10 minutes of your time can help improve our site! Answer a few quick questions and you can help us make worldwildlife.org better.