Papua New Guinea
11 Days

October 13-24, 2012
Indigenous tribes in Papua New Guinea maintain their traditions through art, songs and dance.

As you'll learn on this tour, some groups in Papua New Guinea have only been known to outsiders since 1935.

Upon arrival in the Asmat, brightly painted warriors will greet you in dugout canoes.

Exclusive access to Watam village will provide insight into life in remote Sepik that very few outsiders have witnessed, even today.
Retrace the adventurous footsteps of the first explorers to the lost paradise of Papua New Guinea. The joy of this expedition through the Coral Triangle – a WWF priority place for protection – is to experience this deeply satisfying life first-hand and see the skills and knowledge that create a sustainable culture.
• Witness mysterious ceremonies derived from 1,000 cultures across the South Pacific.
• Explore remote coastal villages surrounded by rain forests and towering volcanoes.
• Swim and snorkel in some of the clearest, most unspoiled waters in the world.
Orion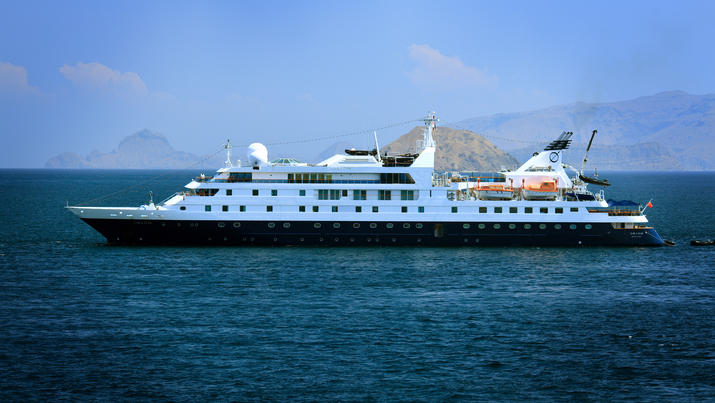 Itinerary
The dates below do not include travel time to and from the destination. Our tour operator will be able to advise you on your best flight options.
Saturday, October 13: Cairns, Australia / Rabaul, Papua New Guinea
Meet up with your fellow travelers at the airport in Cairns for a morning group charter flight to Papua New Guinea. Arrive in the afternoon, in time to have a welcome lunch aboard Orion, which remains dockside through mid-afternoon tomorrow.
After lunch, you are free to explore Rabaul on your own or with one of the guides. Set at the eastern end of the island of New Britain, the tropical port town is surrounded by six volcanoes, one of which, Mt Tavurvur, is still active today. An assortment of nature-oriented and historical excursions are available. (L,D)
Sunday, October 14: Rabaul
Spend time exploring the region on one of two excursions. The first is a highlights tour of the area. Tour the eerie ghost town of old Rabaul, which sits under tons of ash dumped primarily by the twin eruptions of Mt. Tavurvur and Mt. Vulcan in 1994. Visit the remnants of a Japanese bomber wreck, a command bunker and tunnels used to hide Japanese barges from Allied planes. And go to the Volcanic Observatory.
The second excursion is for more active travelers, ferrying you via boat to the base of Mt. Tavurvur. Take a guided trek across old lava flow, learning about the history of the volcano and meeting Matupit villagers. This is a good spot to look for megapodes – stocky, chicken-like birds that live on the wild landscape, incubating their eggs by burying them in decaying vegetation. Orion departs in the late afternoon, cruising right past the active volcano. (B,L,D)

Monday, October 15: At sea
Join the ship's expedition leader and naturalist guides for a series of lectures and presentations on the destinations you'll visit and birdlife you may see along the Sepik River tomorrow. (B,L,D)
Tuesday, October 16: Sepik River / Watam Village
The meandering Sepik River is the longest river in Papua New Guinea and for years has been a major trade artery linking the coast and the interior. Orion will take two anchorage positions during the day, one close to the mouth of the Sepik River and the other nearby the village of Watam, home to a population of 300. The dense flora and swamps along the river's edge is home to many species of birds.
During Zodiac excursions, watch for egrets, herons, kites, jacanas, darters, cormorants and kingfishers, among others. The two local species of crocodile may also be seen if we are lucky. Exclusive access to Watam village will provide insight into life in remote Sepik that very few outsiders have witnessed, even today. Villagers will welcome you with a special "dragon" dance. You will be shown how to make sago, the staple food of the region, and visit the local school. (B,L,D)

Wednesday, October 17: Madang
Early this morning, Orion will enter the spectacular Madang Lagoon. Madang itself is a pretty town set on a peninsula, with lush gardens and magnificent vistas of tropical seascapes, islands and inlets.
The market is a must-see – with masses of colorful produce, shell jewelry, woven bags known as bilums, carvings and Bilbil clay pots, which are a local specialty. Take a fascinating tour of the village of Bilbil, where houses are made from traditional materials, such as the sago palm, and often an entire house can be constructed without the use of nails. Then stop at a local museum.
Alternately, scuba divers can join in a half-day dive at Madang. (Conditions permitting; an additional fee applies.) Dive sites just offshore encompass wartime wrecks, pelagic marine life, reef-filled shallow lagoons and deep drops. (B,L,D)
Thursday, October 18: Tami Islands
The Tami Islands are a small group of uplifted coral atolls, with two main villages on the two larger islands and many smaller reefs and cays. Spend the day swimming, snorkeling and sea kayaking in a deep water blue lagoon with hundreds of species of marine life, including hard and soft corals, anemones, blue sea stars, clown fish, trevallies and lion fish. Explore one of the villages before a festive beach BBQ. (B,L,D)

Friday, October 19: Tufi
More than 30 fjords are carved into the shoreline around Cape Nelson, each surrounded by dense rain forest above sheer basalt walls and waterfalls. Explore the region, visiting isolated villages along the coast and on the imposing slopes of Mt. Trafalgar.
Sandy beaches meet coral reefs, and the crystal clear water is teeming with diverse marine life – a perfect combination for swimming, snorkeling and kayaking right from the beach. Or opt for a scuba diving or snorkeling adventure along an outer reef in the Solomon Sea. (Conditions permitting; an additional fee applies.)
Alternately, you can join a moderately difficult, guided trek at Suicide Point at Tufi. The son of a local chief will lead you through villages and along steep cliffs to a slender division separating two fjords – so narrow that barely one person at a time can walk on the path. Along the way, you may see the world's largest butterfly (the Queen Alexandra Birdwing, which has a 30cm wingspan), hornbills, parrots and black and white cockatoos. (An additional fee applies to this guided trek.) (B,L,D)

Saturday, October 20: Kitava, the Trobriands
Our visit today will be to Kitava Island and the lagoon formed by the tiny coral cay of Nuratu Island just off the main beach of Kitava. Locals rely on subsistence farming and fishing in the Trobriands, and the yam plays an important role in their diet and lives. The starchy root vegetable is revered, being proudly displayed after harvesting and then kept in elaborate storehouses, which you can see during a village visit. (B,L,D)
Sunday, October 21: Samarai & Kwato Islands
In the early 1900s Samarai Island was the thriving colonial capital of the territory of Papua and the town's streetscape carries reminders of those bygone, halcyon days. Despite its faded-glory atmosphere, commerce is still the lifeblood of this tiny island, with inter-island trading ships frequenting the harbor.
A pleasant stroll through the town can be taken past the wharf and the trading company opposite to the sports ground, which is still the scene of fiercely contested cricket matches. From here, a relatively easy climb up the small hill near the old hospital is rewarded with wonderful views of the harbor and the China Strait. The China Strait islands surrounding Samarai have a history of witchcraft that persists, despite the best efforts of missionaries to debunk stories of ghost ships and mysterious lights. Also in the group is the uninhabited island of Deka Deka, which we will use today as a base for swimming and snorkeling. (B,L,D)

Monday, October 22: Alotau, Milne Bay
Alotau is at the eastern tip of mainland Papua New Guinea. The rugged Owen Stanley Ranges to the west have isolated Alotau and there is no road access to the rest of the country. Many of the population of around 10,000 rely on the sea for their livelihood. Choose from one of three excursions today. The Alotau WWII History Tour is graded as an easy tour. The Alotau Highlights Tour is more general in scope, covering both historical and cultural aspects and taking you to scenic overlooks. And the Alotau Bat Cave Adventure, which requires a little more physical dexterity and an adventurous spirit, takes you into an extensive cave system's caverns and tunnels and across streams. The caves are home to thousands of bats. (B,L,D)

Tuesday, October 23: At sea

Wednesday, October 24: Cairns, Australia
Disembark in Cairns after breakfast. Enjoy the day exploring the region on your own, or transfer to the airport for flights home. (B)
Ask us how you could save 15%.
From $8,095 per person, based on double occupancy. Single rates from $12,143
Note: An October 24 departure is also available; that itinerary runs in reverse. Contact us for more details.
Call (888) 993 – 8687
to book your spot on this tour.
Questions? Email us at
travel@wwfus.org
.
More Upcoming Tours
xShare Your Thoughts!
Just 10 minutes of your time can help improve our site! Answer a few quick questions and you can help us make worldwildlife.org better.