South Africa Safaris
10 days

Multiple departures, June, August & September
Get close-up looks at the 'Big Five' on a South Africa safari.
Cheetahs drink in harmony at a watering hole in Kruger National Park

Stare into the eyes of some of the most magnificent species on the planet during safari drives.

Burchell's zebras usually travel in herds but disperse during the day to graze alone on coarse grasses.

Vervet monkeys, which spend several hours a day grooming, are commonly spotted in Kruger National Park.
From the massive-tusked African elephant to the sleek leopard, from squat rhinos to regal lions, they are all in South Africa in healthy numbers that provide one of Africa's greatest safari experiences.
Available Tour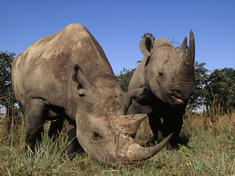 Secluded South Africa Safari
The ultimate destination to get up-close looks at Africa's "Big Five." Explore Mashatu Game Reserve, Kruger National Park and Sabi Sand Game Reserve in search of rhinos, elephants, leopard, lions and buffalo.
10-day tours from $10,495
Available Extensions
Cape Town Extension 4 days, custom pricing
Kliptown Youth Program Voluntourism 2 days from $167
Articles
Ten Things to Take on Your African Safari
East Africa vs. Southern Africa: How to Choose for your Safari
Where in the World Can You See Penguins?
Ten Wild Facts about the "Big Five"
Eco-successes in the African Bush
Ten Interesting Facts about Lions
Discovering Our Planet Together
Call (888) 993 – 8687
to book your spot on this tour.
Questions? Email us at
travel@wwfus.org
.
WWF in South Africa
South Africa is home to the majority of Africa's rhinos and, sadly, has been the epicenter of rhino poaching. Stopping such wildlife crimes is a priority initiative for WWF staff around the world. Read more here.
More Upcoming Tours