West Coast of South America
20 days

October 8 - 27, 2013
Lauca National Park, situated high in the Andes, is a a Global Biosphere Reserve.

You may spot marine otters during your explorations of Chile along with seals, sea lions, whales and dolphins.

The Chan Chan Archaeological Zone was a large city during the 15th century.
This grand adventure along the rugged western coast of South America reveals myriad cultural and natural splendors, with four UNESCO World Heritage Sites on tap. Begin in Quito, Ecuador's charming capital city, where beautiful colonial architecture is rivaled only by the surrounding peaks of the snow-capped Andes. Board the ship in Guayaquil and voyage southward to discover magical vistas, unique micro-climates, and the prolific wildlife supported by the nutrient-rich Humboldt Current. Throughout your Peru and Chile adventure travels, make stops at sites of historical and cultural significance, including colorful Indian villages, the ruins of Chan Chan, and the Inca Museum. Discover beaches covered in seals and sea lions, spot dolphins and whales offshore, and huge numbers of plunge-diving pelicans, comical blue-footed boobies, and elegant Inca terns—lending themselves to rare wildlife photographs during your Chile expedition.
Visit Lauca National Park, an Andean wonderland of volcanoes, glacier lakes and unique South American wildlife.
Observe historic architecture, browse colorful markets, and wander the pre-Colombian ruins of Chan Chan as part of your Peru adventure travels.
Zodiac cruises visit offshore islands throughout your Chile and Peru expedition, to find huge concentrations of seals and sea lions, whales and dolphins, and breeding seabirds.
Sea Adventurer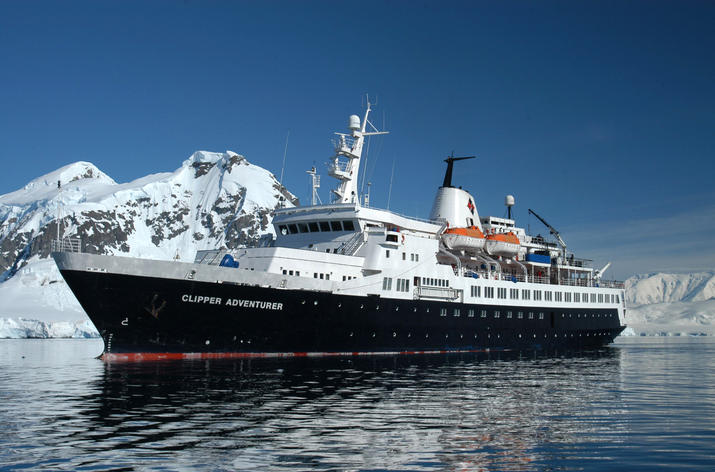 Itinerary
Tuesday & Wednesday, October 8 & 9, 2013
Home / Quito, Ecuador
Fly on your own to Quito. Situated at 9,350 feet, Quito is nestled in a valley surrounded by magnificent snow-capped volcanoes. After Wednesday morning at leisure and lunch at the hotel, tour old colonial Quito, with its Spanish-style cathedral, palace, cobblestone streets and spacious plazas. Return to the
hotel for a welcome dinner. JW Marriott Hotel Quito (B,L,D Wednesday)
Thursday, October 10
Quito / Guayaquil / Salinas / Embark Sea Adventurer
Board your flight to Guayaquíl and enjoy an introductory tour of Ecuador's largest city and main port, including the old district of Las Peñas and the restored Malecón Riverfront neighborhood. After lunch, board the Sea Adventurer. (B,L,D)
Friday, October 11
At Sea
Join your ornithologist Peter Harrison on deck as you cruise along the coast toward Peru. The cold waters of the Humboldt Current, rich in dissolved nutrients, support one of the richest oceanic environments in the world. The abundant sea life, in turn, attracts a multitude of birds including albatross, shearwaters, petrels, cormorants and gulls. You may also spot dolphins and humpback whales. (B,L,D)
Saturday & Sunday, October 12 & 13
Salaverry, Peru / Chan Chán / Hormigas de Afuera
Disembark Saturday in Salaverry and drive to Chan Chán, a World Heritage Site. Explore the ruins of this former imperial headquarters of the Chimú Empire (1000-1470), with the remains of palaces, temples, dwellings and burial mounds, many sculpted with ornate decorative figures. The nearby Sun and Moon temples are South America's largest pre-Columbian pyramids. On Sunday, visit the tiny islands of Hormigas de Afuera, known for their abundant wildlife, including Peruvian boobies and southern sea lions. (B,L,D daily)
Monday & Tuesday, October 14 & 15
Pisco / Paracas National Reserve
(Optional Nazca Lines Excursion)
Disembark in Pisco and transfer to Paracas National Reserve which protects a variety of marine habitats and tropical desert. After seeking out the area's resident wildlife, visit Tambo Colorado, a well-preserved Inca village that was likely built at the end of the 15th century. Or choose an optional flight to view the Nazca Lines, a World Heritage Site. These enormous geoglyphs, animal-motif remnants of a pre-Incan civilization, are etched into the desert surface and can only be fully appreciated from the air. Tuesday is spent at sea. (B,L,D daily)
Wednesday, October 16
Arica, Chile
Dock in the colorful town of Arica. Visit a handicrafts market, then enjoy a drive through the scenic Azapa Valley, a fertile oasis framed by hills where ancient geoglyphs can be found. Birders search for the rare Chilean woodstar, an endemic hummingbird. The afternoon is free to explore Arica on your own. (B,L,D)
Thursday, October 17
Arica / Lauca National Park
Journey inland for a full-day exploration of Lauca National Park, a Global Biosphere Reserve. Situated high in the Andes at 14,000 feet above sea level, Lauca is one of South America's most spectacular parks. Lauca has an abundance of wildlife including vicuñas, guanacos, viscachas and Andean flamingos. Stop at a photogenic highland village with gleaming whitewashed walls and thatched roofs offset by deep blue skies. (B,L,D)
Friday & Saturday, October 18 & 19
Iquique / Atacama Desert / Antofagasta
From Iquique, board a short flight to Calama, then drive to Hosteria San Pedro de Atacama,
your base while exploring the Atacama Desert. In the town of Lasana, view an ancient fortress
and explore the pre-Columbian ruins of Pukara de Quitor. In San Pedro de Atacama, see 2,300-year-old mummies at the archaeological museum. Visit the Valley of the Moon, an eerily beautiful landscape of eroded salt mountains and distant volcanoes. The next day includes an early morning stop at Lake Chaxa, where three species of flamingos may be seen feeding in the briny waters. Cross the Tropic of Capricorn en route to Antofagasta, where you embark the Sea Adventurer for dinner. (B,L,D daily)
Sunday, October 20
Isla Pan De Azúcar
This rugged island, a protected reserve, is home to the largest breeding colony of Humboldt
penguins in Chile. From Zodiacs, watch the birds diving, swimming and feeding. You may
also spot marine otters, South American sea lions, pelicans and Peruvian boobies. (B,L,D)
Monday, October 21
Islotes Pajaros / Coquimbo / La Serena
Via Zodiac, explore Islotes Pajaros, home to red-legged cormorants, boobies and other seabirds and a major sea lion rookery. From Coquimbo, a short drive will take you to La Serena for its stunning views, the La Recova market and the archaeological museum. (B,L,D)
Tuesday & Wednesday, October 22 & 23
At Sea / Isla Mocha
Following Tuesday at sea, arrive at Isla Mocha, which supports a lush, temperate rain forest of southern beech, fuschias and large arrayan trees. Explore the rocky coastline and continue inland to a lovely forest trail. Birders search for black-faced ibis, southern lapwings and the pink-footed shearwaters that breed
here. (B,L,D daily)
Thursday & Friday, October 24 & 25
Valdivia / Chiloé Island
Valdivia is a provincial capital with a European ambiance; tour a fortress, botanical garden and chocolate factory. Later, cruise the Río Cruces estuary to search for black-necked swans, snowy-crowned terns and Chiloé wigeons. The next day takes you to Chiloé, whose churches are a World Heritage Site, and the seaside community of Dalcahue. (B,L,D daily)
Saturday & Sunday, October 26 & 27
Puerto Montt / Disembark Sea Adventurer / Home
Birders will head out early for a final excursion to search for the recently discovered, and not yet officially named, "Puerto Montt storm petrel." After breakfast, disembark and go on a sightseeing tour of Puerto Montt. After lunch in Puerto Varas, proceed to the airport for flights home, arriving in the U.S. Sunday. (B,L)
From $11,980 per person, based on double occupancy
Call (888) 993 – 8687
to book your spot on this tour.
Questions? Email us at
travel@wwfus.org
.
West Coast of South America Brochure
More Upcoming Tours
xShare Your Thoughts!
Just 10 minutes of your time can help improve our site! Answer a few quick questions and you can help us make worldwildlife.org better.