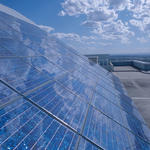 Date: June 18, 2013
Author: Mike Robinson - General Motors
Not too long ago I suppose, it would have been hard to believe that General Motors and World Wildlife Fund could be in agreement on how to protect the planet. But with today's release of The 3% Solution report by WWF and CDP, it has become clear to me that we are on the same page when it comes to many of the actions needed to halt the steady rise of the globe's temperature.
I say this with confidence because the activity described in this report is similar to what we have been doing for the last three years – and I'm here to say that it works.
Continue Reading