Sustainable Ranching Initiative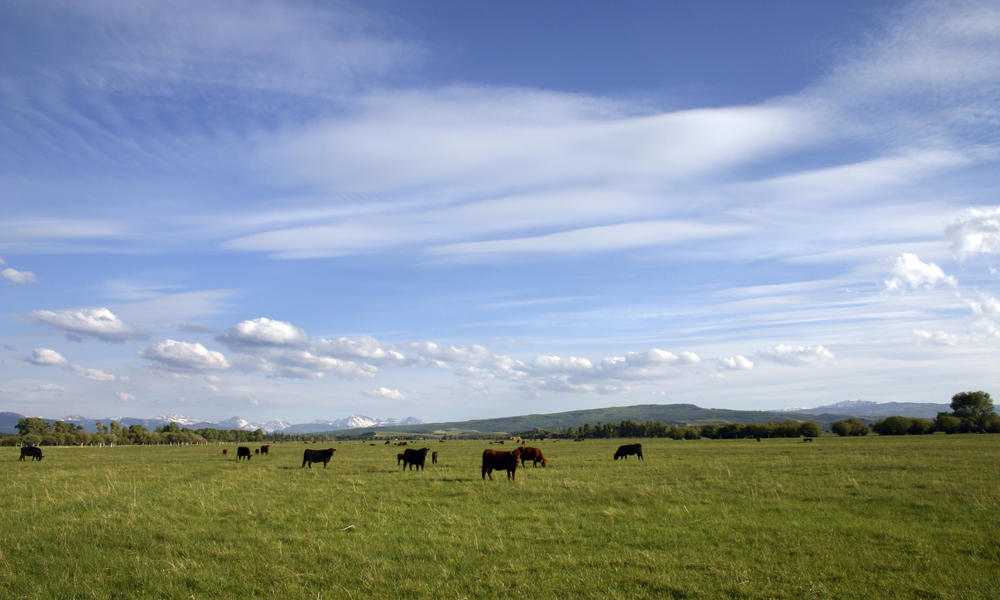 WWF's Sustainable Ranching Initiative works with farmers and ranchers around the world to identify and accelerate the use of more ecologically and economically sustainable management practices. The initiative focuses on issues that bridge opportunities to collaborate with the farming and ranching community to make livestock production more sustainable, for the environment and contribute to increased vibrancy of rural communities.
The Sustainable Ranching Initiative is the first step in bringing the Global Roundtable for Sustainable Beef to life on the ground and to engage with local efforts in North America, Brazil, Argentina, Australia and Southern Africa.
WWF's strength is its ability to work at both the global and local levels. The Sustainable Ranching Initiative works from the ground up, partnering with ranchers and landowners. The Initiative's first pilot projects are underway in key beef production areas where WWF operates around the world.
Northern Great Plains
Ranching is an important part of the Northern Great Plains, a region spanning 180 million acres, five states and two Canadian provinces. WWF is developing pilot projects throughout the Northern Great Plains to identify and demonstrate better management practices. These techniques will help accelerate the implementation of more ecologically and economically sustainable resource and cattle management practices.
Chihuahua Desert
Spanning the U.S. states of Eastern Arizona, Southern Colorado, New Mexico and West Texas with the largest portion of the eco-region in Northern Mexico, the Chihuahua desert region is a major beef producing area in both countries. By working with the ranching community, we will find and promote methods to better manage scarce water resources and reduce conflicts with bird population.
Australia, Great Barrier Reef
Australia is well known for ranching what is not widely known is that ranching in Queensland Australia has a large impact on the Great Barrier Reef. Sediment from rivers flowing into the Coral Sea is adversely affecting the reef. By working with landowners to improve grazing practices WWF is helping find and promote new management practices that benefit both ranching and the reef.
Brazil, the Amazon, Pantanal and Cerrado
Ranching is the largest contributor to deforestation in the Amazon. It also plays a significant role in the important ecosystems of the Pantanal and Cerrado. WWF is finding ways to work with ranchers in these areas of Brazil that will significantly reduce the negative impacts. Already WWF has worked with government and private organizations to develop guidelines and systems that contribute to sustainable ranching.
Southern Africa, Namibia and South Africa
Native pastoral communities in Africa have had a long history of ranching. WWF's Sustainable Ranching Initiative is finding ways to work with ranchers in Africa to promote sustainable management practices. We are working to promote grasslands ecology important for both ranching and wildlife and develop community-based conservation efforts that promote sustainable ranching.
By engaging cattle ranchers and farmers in North America, Brazil, Argentina, Australia and Southern Africa,
WWF seeks to partner with stakeholders to make positive continuous improvement and inform the efforts of
the Global Roundtable for Sustainable Beef (GRSB). The GRSB facilitates a global dialogue on beef production that is socially responsible, economically viable, and environmentally sound.
Why is WWF working on beef
WWF strives to uphold the tradition of cattle ranching and production, while improving lands and waters for wildlife and people. Nonetheless, beef production has an impact on the environment. Improperly managed cattle can harm watersheds and grasslands.
Beef production is known to be the highest driver of deforestation globally, accounting for 25 percent of greenhouse gas emissions due to land use, land use change and forestry, and 50 percent in Brazil alone. Additionally, it has a major impact on biodiversity, and on land and water resources, and is a major factor when considering the equitable sharing of the world's natural resources. It is consequently a key element affecting the realization of WWF's goals which are aimed at reducing humanity's footprint and biodiversity impacts and staying within the ecological limits of one planet.
Beef is an important, protein- and nutrient-rich food source, and an important element of many cultures and land use systems. Additionally, grazing is a natural process with which certain ecosystems have evolved, and is critical for maintaining the health of grassland ecosystems – by sustaining wildlife habitat, biological diversity, and functioning watersheds. Additionally, grasslands sequester more carbon then any other terrestrial ecosystem which emphasises the importance of maintaining grassland health. With some studies indicating that beef will continue to gain importance as a food source in a world with a growing and increasingly affluent population, and potentially with a consequent increasing footprint on the planet, it is imperative that WWF participates in this significant commodity/footprint issue.