Papua New Guinea
16, 18 or 34 days

Voyage I: Remote Islands of Papua New Guinea | March 8 - 23, 2014

Voyage II: Raja Ampat and Asmat Villages | March 19 - April 5, 2014
Join WWF Senior Program Officer Cassie O'Connor on the second half of this voyage through the species rich waters of Raja Ampat and the remote Asmat villages.
Indigenous tribes in Papua New Guinea maintain their traditions through art, songs and dance.

As you'll learn on this tour, some groups in Papua New Guinea have only been known to outsiders since 1935.

Upon arrival in the Asmat, brightly painted warriors will greet you in dugout canoes.
Tour Highlights

Retrace the adventurous footsteps of the first explorers to the lost paradise of Papua New Guinea. The joy of this expedition through the Coral Triangle – a WWF priority place for protection – is to experience this deeply satisfying life first-hand and see the skills and knowledge that create a sustainable culture.
Voyage I: Remote Islands of Papua New Guinea
Witness the spectacular fire dances of the Baining tribe.
Explore remote coastal villages surrounded by rain forests and towering volcanoes.
Visit "The Islands of Love," the Trobiand Islands, where you'll witness the islanders' unique dances.
16 days from $10,970. Save 5% on each tour when combined with Voyage II.
Voyage II: Raja Ampat and Asmat Villages with Cassie O'Connor

Swim and snorkel in some of the clearest, most unspoiled and biodiverse waters in the world, the Raja Ampat Archipelago, part of the fabled Coral Triangle.
Spend two exhilarating days in the Asmat--here you are greeted by elaborately decorated "warriors paddling intricately carved canoes, and are invited to learn about their unique culture.
Search for over 500 species of birds including beautiful birds of paradise.
18 days from $12,470. Save 5% on each tour when combined with Voyage I.
See the brouchure for complete pricing details.
About Cassie O'Connor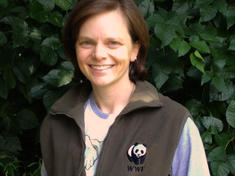 Cassie O'Connor is a Senior Program Officer at WWF-US, working with the Coral Triangle and Borneo-Sumatra Programs. Cassie works closely with WWF-US's Conservation Science, Species, Policy, and Markets teams to provide integrated technical support to WWF projects throughout the region. Recently, Cassie has been working with the WWF Western Melanesia Program Office and their Solomon Islands team to support their work on fisheries management, sea turtle conservation, and climate change adaptation, and with the WWF Indonesia office to support their community-led reforestation projects.
Articles
A Virtual Voyage Through Papua New Guinea
Ten Things to Take on Your Snorkeling Adventure
Women in Conservation: Rachel Kramer
A Sanctuary for Snorkelers
Carving a New Life for Forests
Caledonian Sky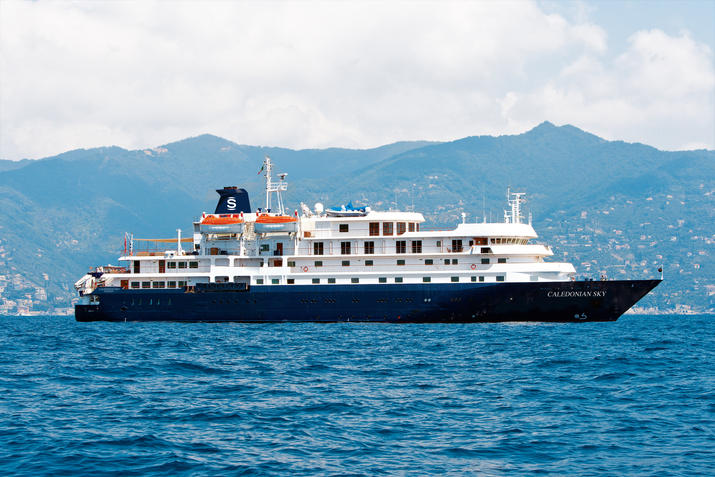 Itinerary
Voyage I: Remote Islands of Papua New Guinea
Saturday & Sunday, March 8 & 9, 2014
USA
Board your independent flight to Australia. Cross the International Date Line, losing a day.
Monday, March 10
BRISBANE, AUSTRALIA / PORT MORESBY, PAPUA NEW GUINEA (PNG)
Arrive in Brisbane and board your flight to Port Moresby. Enjoy an afternoon at leisure, with dinner and overnight at our hotel.
Tuesday, March 11
PORT MORESBY / EMBARK CALEDONIAN SKY
Today join a tour of Port Moresby, visiting the National Museum and Art Center. You may also view, and purchase, high-quality carvings and handicrafts at a local shop. This afternoon, embark the Caledonian Sky.
Wednesday, March 12
BONARUA ISLAND
Be on deck as the ship traces the coast of Papua New Guinea, to observe the peaks of the dramatic Stanley Owens Range that soar to 13,000 feet. This afternoon visit the island of Bonarua, where a local choir welcomes you ashore. Observe fishing and weaving demonstrations, and stroll through the enchanting village, sampling local delicacies made from sweet potatoes, taro, and yams. Birders venture into the thicket to search for island specialties, and the warm inviting waters of the Coral Sea offer a perfect introduction to the undersea wonders on your first snorkel or dive excursion of many to come.
Thursday, March 13
FERGUSSON & DOBU ISLANDS, D'ENTRECASTEAUX ISLANDS
Today visit Fergusson Island, the largest island of the group, notable for its hot springs, bubbling mud pools, spouting geysers, and extinct volcanoes. Spend the afternoon snorkeling or diving, or step ashore on tiny Dobu for beachcombing and nature walks.
Friday, March 14
KITAVA & NARUTU ISLANDS, TROBRIAND ISLANDS
This morning visit with the traditional Trobriand islanders of Kitava and view energetic, time-honored dances that celebrate fishing and the seasonal yam harvest. Learn about the history of the Kula Ring, a circular pattern of ceremonial trade relationships that binds the islands of Milne Bay and eastern Papua New Guinea together in a long established network of friendship. These islanders are also renowned for the exquisite quality of their ebony wood-carvings, often decorated with mother-of-pearl shell inlays. Enjoy a walk among the villages of Kitava before returning to the ship for lunch.
Spend the afternoon at the nearby idyllic island of Narutu, with superb opportuni-ties for snorkeling, diving, swimming, and beachcombing from the palm-lined, white-sand beach. Join naturalists on a hike around the island and through the forest to search for flying foxes (fruit bats), helmeted friarbirds, and channel-billed cuckoos.
Saturday, March 15
GAWA ISLAND, MARSHALL BENNETT ISLANDS
Gawa is a makatea island—a coral atoll uplifted by geologic activity. Its fertile high plateau, atop steep cliffs, is populated by several villages. A hike up the hillside brings you to Kweupa where the village chief and elders welcome you with ceremonial greeting dances in the town square. Take a look at the enclosed canoe houses which store the island's great trading canoes, elaborately decorated with pearl shell work and carvings. Intriguing handicrafts and artifacts will be on display, including lime pots made from gourds and intricately carved coconut shells and drums.
Sunday, March 16
RABAUL ISLAND, EAST NEW BRITAIN ISLANDS
Six cone-shaped volcanoes, some of which are still active, ring Rabaul's dramatic
flooded-caldera harbor. Visit the bubbling hot springs and take in magnificent views from Observatory Ridge. And, learn about the island's WWII history—Rabaul was a Japanese stronghold under Admiral Yamamoto. Tonight attend an astonishing performance of the Baining tribe's fire dance. Tribe members in huge, magnificently crafted masks, leap and dance over crackling, red-hot coals in a centuries-old ritual to honor the local deity-spirits.
Monday, March 17
CRUISING THE STEFFEN STRAIT /TSOI ISLANDS
This afternoon, villagers warmly welcome you to the Tsoi Islands with a cultural performance and dances accompanied by a superb local choir. Sample traditional foods, then take a walk around the island's perimeter to find orchids, butterflies, skinks, and birds along the way. On Tsoi Lik search for megapodes nesting along the sandy beach.
Tuesday, March 18
TINGWON ISLANDS
Completely encircled by an oblong reef, few passenger vessels are able to visit this small group of islands. Land on a sandy beach and meet the 350 inhabitants of charming Tingwon—a picture-perfect village—and enjoy their hospitality, local delicacies, and dances. After your visit, snorkel or dive along the islets' surrounding reef.
Wednesday, March 19
NAUNA ISLAND, ADMIRALTY ISLANDS
One of PNG's most remote islands, Nauna is famous for the unusual practice of fishing using spider web lures and a unique kite-flying technique. Enjoy a performance of traditional dances accompanied by the beat of garamut (slit-gong drums) and take note of the intricately woven baskets worn by the dancers.
Thursday, March 20
BALUAN ISLAND
This tiny southernmost Admiralty island, was formed by a now extinct volcano. Zodiacs take you ashore where you are greeted with a rhythmic drum and dance exhibition, then have the opportunity to walk up to the crater for stunning views. Or choose to visit the farming village of Lipan and the neighboring village of Mouk, home to fishermen and seafaring canoe builders. Snorkeling and diving along the fringing reef is excellent.
Friday, March 21
MURIK LAKES, SEPIK RIVER DELTA / WEWAK
Enter the Sepik River region today, a 700-mile-long river whose tribes are famous for their traditional carvings linked to spiritual beliefs. In the Murik Lakes area explore a series of lagoons, mangrove-and-grass-covered islets, and sago wetlands forming the delta of the mighty river. The Sepik carries down great quantities of silt, creating a constantly changing landscape of river bars; the tides of the day determine our Zodiac access. You may have the opportunity to visit the village of Kopar, where a women's chorus welcomes you ashore. The 300 residents of this typical Lower Sepik village subsist on sago, cultivated in nearby swamps, and fish, caught by the local women.
Saturday, March 22
WEWAK / DISEMBARK / PORT MORESBY / BRISBANE, AUSTRALIA
Disembark this morning for a brief city tour. Wewak is an attractive town, lying under a headland and surrounded by golden beaches and palm trees. The region is steeped in the history of WWII; at nearby Cape Wom, Japanese general Adachi surrendered to the Allies. Memorials to the Australians and Japanese who died in the conflict honor the valiant men of both sides. After lunch, return to the ship to continue on Voyage II or board your flight to Brisbane, via Port Moresby, and check in to your airport hotel for dinner and overnight.
Sunday, March 23
BRISBANE / USA
Depart on your independent flight home-ward. Arrive in the USA on the same day after crossing the International Date Line.
Voyage II: Raja Ampat and Asmat Villages


Wednesday & Thursday, March 19 & 20, 2014
USA
Board your independent flight to Australia. Cross the International Date Line, losing a day.
Friday, March 21
BRISBANE, AUSTRALIA / PORT MORESBY, PAPUA NEW GUINEA (PNG)
Arrive in Brisbane this morning and connect with your flight to Port Moresby. After lunch at the hotel enjoy an afternoon at leisure. This evening attend a welcome reception and dinner, with overnight at our hotel.
Saturday, March 22
PORT MORESBY / WEWAK / EMBARK CALEDONIAN SKY
Fly to Wewak this morning, and time permitting, tour Wewak, an attractive town surrounded by golden beaches fringed with palm trees. Board the Caledonian Sky in the late afternoon.
Sunday, March 23
JAYAPURA, PAPUA
Join naturalists and historians this morning for informative lectures and watch for flying fish and sperm whales as you cruise along the coast. After lunch arrive in the capital of Jayapura, formerly known as Hollandia. Drive through lush countryside to the site where General MacArthur established his headquarters in 1944 after sweeping the Japanese from the town.
Monday, March 24
AT SEA
Enjoy a day at sea to relax and attend informative lectures.
Tuesday, March 25
MAPIA ATOLL
As the ship approaches Mapia Atoll be on deck to search for the dolphins often sighted here. The vertical walls of this atoll rise several thousands of feet from the ocean floor and are covered with brilliant soft corals, gorgonian sea fans, and sponges that provide cover for myriad tropical ? sh. Divers may encounter larger species such as barracuda, tuna, humphead parrotfish, and curious jacks. Spend the afternoon at sea as we make our way to Raja Ampat.
Wednesday, March 26
GAM ISLAND, RAJA AMPAT
More than 1,500 karst limestone islands make up the majestic archipelago of Raja Ampat. The marine environment here, known as the Bird's Head Seascape, is heralded as the most biodiverse on earth and includes 75 percent of all known coral species and more than 1,220 types of reef fish. Spend the day enjoying this unsurpassed coral wonderland and the abundant marine life that is found here. Birders look for species such as the red bird of paradise, sulphur-crested cockatoo, beach kingfisher, varied honeyeater, spice imperial pigeon, and singing starling in the dense forests.
Thursday, March 27
MOMMON PENINSULA /EXPEDITION STOP
The spectacular Mommon Peninsula is covered in forest often veiled in wisps of cloud. A strong river empties into the sea as a beautiful waterfall and, if tides permit, you may land on a small nearby beach. An afternoon snorkeling and diving excursion reveal huge and colorful soft corals fed by channels teeming with fish.
Friday, March 28
TRITON BAY
Exceptionally picturesque, Triton Bay offers outstanding Zodiac cruising. Entering a small channel between Mauwara Island and mainland Papua, cruise through dazzling tropical waters and scenery of spellbinding natural beauty. Wildlife flourishes in this undisturbed habitat, including colorful bird species such as Blyth's hornbills, black-capped lorikeets, helmeted friarbirds, egrets, and palm cockatoos. During an expedition stop, snorkelers and divers marvel at the world of soft corals and kaleidoscopic reef fish, including dinner-plate-sized angelfish, large striped sweetlips, and lionfish.
Saturday, March 29
AT SEA
Spend a relaxing day at sea and attend informative lectures on the natural and cultural highlights ahead. This evening, the ship awaits high tide to enter the Flamingo River's narrow channel off Agats village, to anchor for the night.
Sunday & Monday, March 30 & 31
ASMAT VILLAGES
Your visit to the Asmat region is an expedition highlight. This remote riverine world—10,000 square miles in its entirety—is revealed as Zodiacs take you along narrow waterways lined with the entwined branches of thick mangrove forests. Watch for Torres Strait imperial pigeons and bright red lorikeets flying overhead. Suddenly, Asmat warriors—whooping and chanting in elaborate gear and war paint—paddle vigorously toward you in dozens of intricately carved canoes. You are escorted to the local village of Agats where enthusiastic welcomes await. A walk along elevated wooden boardwalks leads to the Catholic cathedral with its superb carvings, and the museum, with elaborate displays of ancestor poles, drums, body masks, shields, daggers, and skulls, reminding us that ritual cannibalism was practiced by the ancestors of some villagers. You will also visit Ewer, its 1,000 hospitable residents inviting you ceremoniously to a colorful market, a men's longhouse, and to view their homes and prolific gardens.
Tuesday, April 1
SAILING THE ARAFURA SEA
Lecturers recap your experience in Papua and brief you on your upcoming visit to Thursday Island.
Wednesday, April 2
THURSDAY ISLAND, AUSTRALIA
Thursday Island lies in the strategic Torres Strait, which separates New Guinea from Australia. This island was settled in the late 19th century, and its early success rested on pearling by the men who risked their lives on deep dives. This morning, explore the small, sleepy town with its typical veranda-lined "hotel" or pub. Green Hill Fort, high on a hill, offers a splendid 360-degree view of the neighboring islands and strait.
Thursday, April 3
TORRES STRAIT / ASHMORE REEF
Enjoy your final snorkel and dive excursion of the voyage at spectacular Ashmore Reef. This fully submerged reef extends across the northernmost end of the Great Barrier Reef system like a string of living pearls. Its distance from human habitation has allowed the marine life to flourish and is home to more than 700 fish species. Huge schools of both colorful reef fish and silvery pelagics populate the rich waters, with a backdrop of rainbow-hued corals.
Friday, April 4
PORT MORESBY, PNG / DISEMBARK / BRISBANE, AUSTRALIA
Disembark this morning in Papua New Guinea's capital city, Port Moresby, and visit the National Museum and Arts Center. The museum exhibits one of the finest collections of primitive art in the world, including Sepik River carvings, Malagan masks from the New Ireland Island area, and Trobriand Island fishing canoes. Transfer to the airport for your flight to Brisbane where you enjoy dinner and your final overnight.
Saturday, April 5
BRISBANE / USA
Depart on your independent fiight home-ward, arriving in the USA on the same day after crossing the International Date Line.
Itinerary dates based on travel to/from the USA. Visit www.zegrahm.com/new-guinea for example flight dates from other countries.
Call (888) 993 – 8687
to book your spot on this tour.
Questions? Email us at
travel@wwfus.org
.
WWF in the Coral Triangle
WWF works to create a network of marine protected areas (MPAs) in the Coral Triangle. Read more here.
Papua New Guinea Brochure
More Upcoming Tours