Overview
Grown only in the tropics, the oil palm tree produces high-quality oil used primarily for cooking in developing countries. It is also used in food products, detergents, cosmetics and, to a small extent, biofuel. Palm oil is a small ingredient in the U.S. diet, but more than half of all packaged products Americans consume contain palm oil—it's found in lipstick, soaps, detergents and even ice cream.
Palm oil is a very productive crop. It offers a far greater yield at a lower cost of production than other vegetable oils. Global production of and demand for palm oil is increasing rapidly. Plantations are spreading across Asia, Africa and Latin America. But such expansion comes at the expense of tropical forests—which form critical habitats for many endangered species and a lifeline for some human communities.
WWF envisions a global marketplace based on socially acceptable and environment-friendly production and sourcing of palm oil. We aim to encourage increased demand for, and use of, goods produced using such practices.
Ice Cream
Palm oil is a small ingredient in the U.S. diet, but more than half of all packaged products Americans consume contain palm oil—it's found in lipstick, soaps, detergents and even ice cream.
Impacts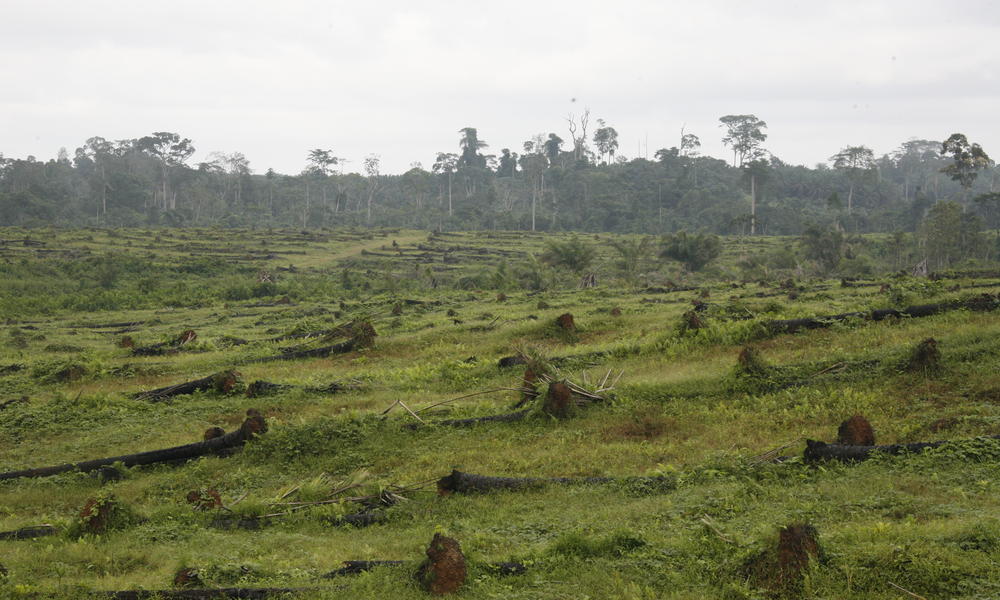 Large areas of tropical forests and other ecosystems with high conservation values have been cleared to make room for vast monoculture oil palm plantations. This clearing has destroyed critical habitat for many endangered species—including rhinos, elephants and tigers. Burning forests to make room for the crop is also a major source of greenhouse gas emissions. Intensive cultivation methods result in soil pollution and erosion and water contamination.
Large-scale forest conversion
Many vast monocrop oil palm plantations have displaced tropical forests across Asia, Latin America and West Africa. Around 90% of the world's oil palm trees are grown on a few islands in Malaysia and Indonesia – islands with the most biodiverse tropical forests found on Earth. In these places, there is a direct relationship between the growth of oil palm estates and deforestation.
What WWF Is Doing
With better management practices, the palm oil industry could provide benefits without threatening some of our most breathtaking natural treasures. Oil palm plantations can stop operating at the expense of rainforests by applying stringent production criteria to all stages of palm oil manufacture.
WWF works on a number of fronts to achieve this, including:
Defining, implementing and promoting better practices for sustainable palm oil production through our Roundtable on Sustainable Palm Oil (RSPO), which is a large, international group of palm oil producers, palm oil buyers, and environmental and social groups
Encouraging companies to use certified sustainable palm oil in the products they make and sell
Eliminating incentives for palm oil production that lead to the destruction of forests
application/pdf, 7.14 MB

A first-of-its-kind study for both the palm oil industry and agricultural commodities in general, Profitability and Sustainability in Palm Oil Production comprehensively examines the financial costs and benefits of adopting certification. The report was produced jointly by WWF, CDC, the UK's development finance institution, and FMO, the Dutch development bank.

application/pdf, 14.6 MB

A rapidly growing global population, accelerating consumption, dietary shifts, climate change and other factors are driving unprecedented price volatility, resource shortages, and other risks in soft commodity supply chains. These challenges pose material, reputational, and systemic risk to investors. WWF seeks to untangle this complexity. Providing distilled guidance based on leading industry practice, The 2050 Criteria is designed to serve as a field guide for investors to access mainstream agricultural, forest, and seafood commodities in a responsible manner.
View All Publications